"Illusion and allusion are meaningful words for me in the sense that in my work there's an illusion of something real, but there's also an allusion to something intangible."
- Eileen Goodman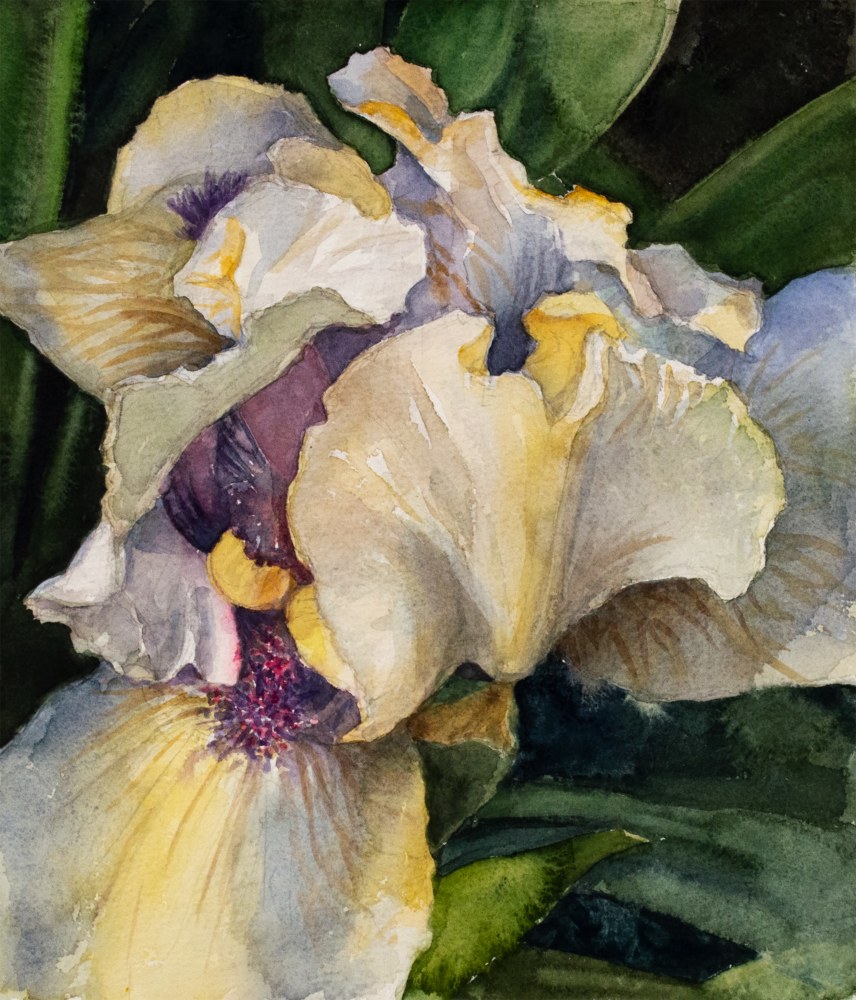 Eileen Goodman (1937 - ) never thought she would be a painter. Growing up in Montclair, NJ, she always drew a lot but was "pretty naive about painting." Choosing illustration as a career, she attended what was then called the Philadelphia College of Art (now University of the Arts), which didn't even have a major in painting. However, the faculty included a few serious painters (Morris Berd, Larry Day, Paul Keene, Jerome Kaplan, and fellow student and former husband Sidney Goodman), whose independent artistic expression suggested other paths. After a brief period developing a portfolio of commercial work, she followed in their creative footsteps.
Putting down roots in Philadelphia, Goodman joined an art community in a city with an artistic legacy reaching back to our nation's earliest days. Established in the early nineteenth century in this city, the Pennsylvania Academy of Fine Arts nourished a tradition of uniquely American realism, defined by such notables as the Peale family, Thomas Eakins, and The Eight. Today realism is as much a part of Philly as the Liberty Bell, cheese steak, doo-wop, and Rocky.
Experimenting with smaller watercolor versions of her oil paintings, Goodman was attracted to the work of Pennsylvania modernist Charles Demuth, who is well-represented in the Barnes Foundation collection in suburban Philadelphia. Perhaps she recognized a similar sensibility in the watercolors of an artist who had exceeded the boundaries of illustration. Vividly direct, Demuth combined a facility to describe form through outline with exuburant gesture and saturated color.
Eventually Goodman's work in watercolor became dominant. In the early 90s, she painted a number of pieces measuring five feet across, a scale more commonly afforded oil paintings. Foregoing oils altogether, she found ways to make watercolor achieve astonishingly unexpected effects of tonality and texture. As with Demuth, properties which render and make real are energized by looseness in the brushwork and layering of color.
Goodman does not have an agenda when she begins a painting. In other words, she sets out with no pre-conceived message, emotional perspective, or point of view that she wishes to convey. Instead she is drawn to the formal relationships between arranged objects that she sets up and photographs; she focuses on composition and the play of light as it touches the surfaces of the objects. Meaning and interpretation, for Goodman, evolve in the mind of the viewer.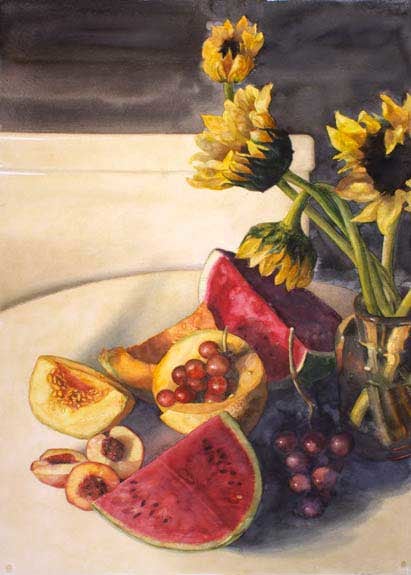 Eileen Goodman's watercolors are captivating. In the unforgiving medium of watercolor, she captures the beauty of intense light and color through the subject of still life. Patterns and shapes dance across her sheets of paper and reveal the artist's life-earned intimacy with what could be considered the most challenging medium. Her understated mastery belies the artist's appreciation and fascination with the craft of making art and the inspirational power of nature.
Goodman combines fruits and flowers with patterned rugs and textiles, rhyming found structure with an imposed order. She invites the viewers to engage her subjects and call to their minds memories of cherries, pomegranates, and lilies. At other times, Goodman heightens the drama in ordinary moments. She looks deep into the shadows created by the form of her objects and finds within these shadowy regions the "dark side of beauty."
Goodman discovers the tone and mood found within her subjects. With the rhythm of moving and drying water inherent in the watercolor medium, the need for quick actions and patient responses allows the artist to be both impulsive and reflective. Goodman's works call attention to the moment at hand, recall the past moments overlooked, and change the way the viewer will see every cherry in the future.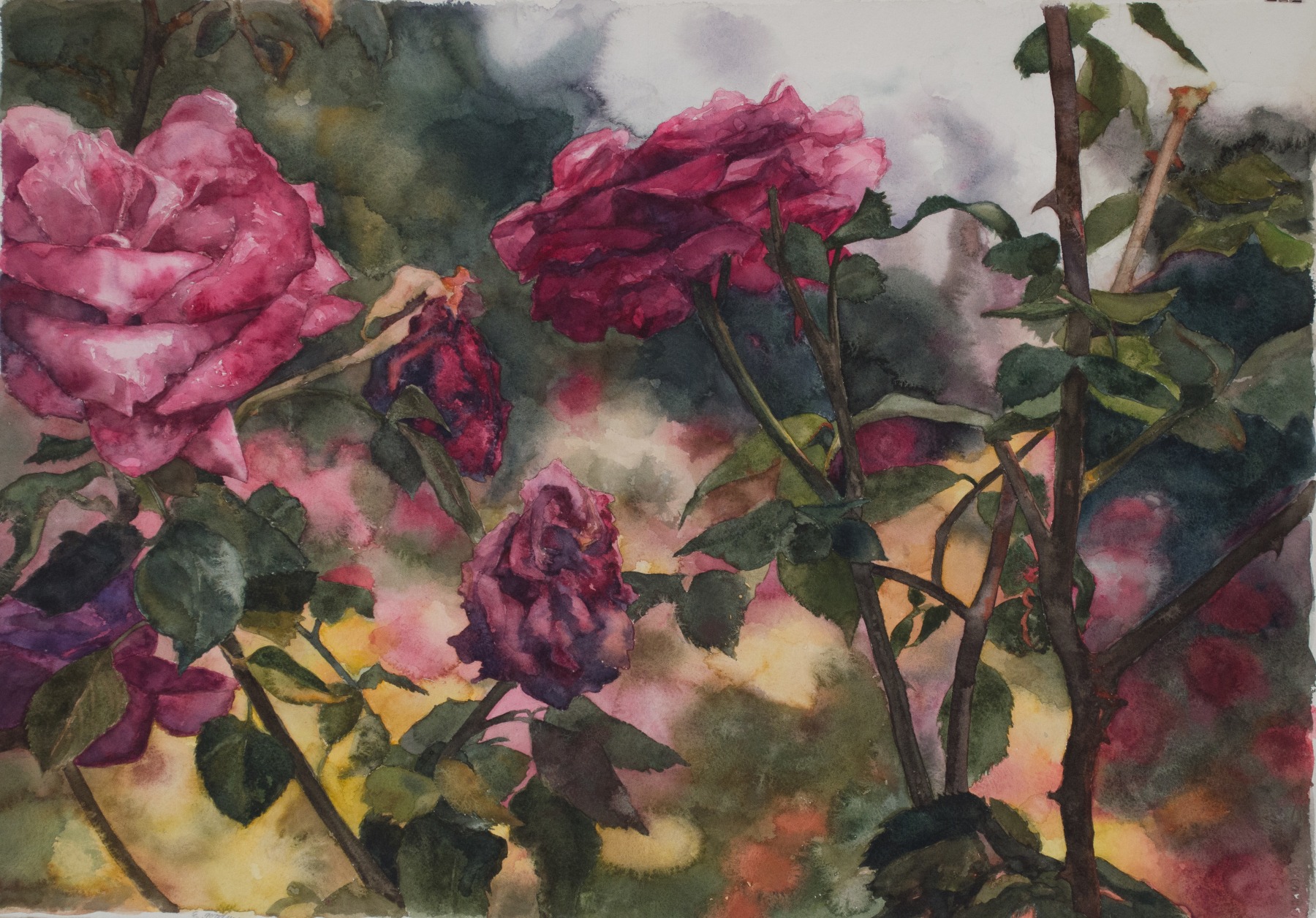 Roses In Front, 20.75" x 29", Watercolor
Eileen Goodman received her BFA from the University of the Arts (previously the Philadelphia College of Art) and attended Temple University. Her works are included in numerous private, corporate, and public collections including the Philadelphia Museum of Art, the Pennsylvania Academy of the Fine Arts, and Woodmere Art Museum where she was recently featured in a 2016 retrospective, "The Weight of Watercolor". Goodman has been represented for over thirty years by Gross McCleaf Gallery.