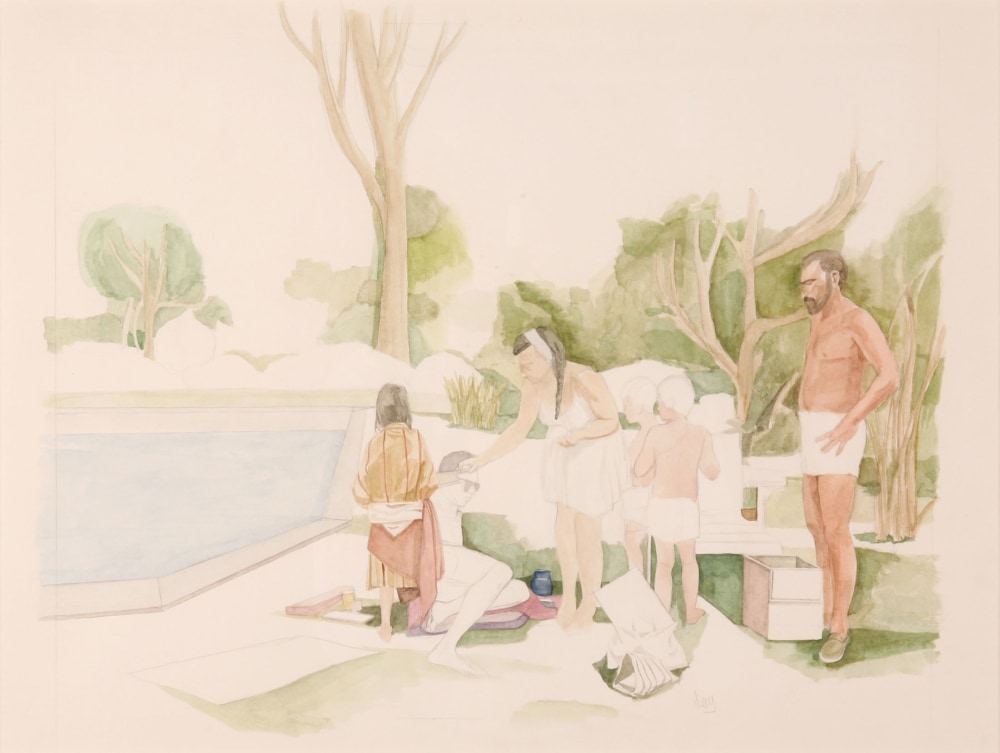 Larry Day At 100 celebrates the centennial anniversary of the birth of Philadelphia born-and-bred, internationally admired artist Larry Day (1921-1998). The Gross McCleaf exhibition accompanies the three-venue retrospective, Body Language: The Art of Larry Day, divided among major Philadelphia-area institutions: Woodmere Art Museum (through January 23, 2022); Rosenwald-Wolf Gallery at the University of the Arts (now closed), and Arcadia Exhibitions at Arcadia University (now closed).
Known during his lifetime as the Dean of Philadelphia painters, Day's work was exhibited in a dozen solo and many group exhibitions at Gross McCleaf, his primary gallery in his home city. Larry Day At 100 welcomes Day back with a career overview of more than 20 works: early abstractions, figurative, and geometric architectural compositions, on both canvas and paper, exploring oil, watercolor, and a range of drawing media.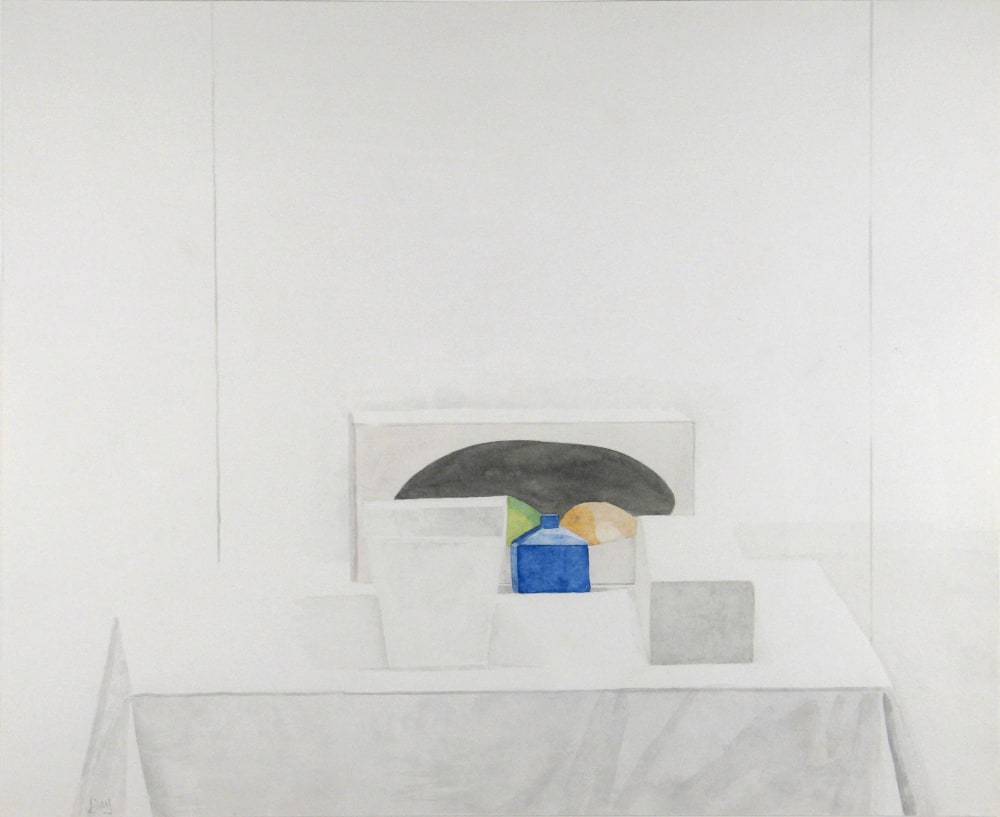 "A consummately reflective artist," as described by the curator of Day's Body Language retrospective, renowned British art historian David Bindman, Day's work addresses the important artistic concerns of his day, many of which remain central to our own time. These include jazz, appropriation that was then closely associated with Pop Art, and issues of visual process. The artist's broad interests drew from poetry, fiction, theater, philosophy, film, classical music, show tunes, and a vast array of image sources. Day's art also is rooted in the visual constructs of earlier European masters, such as Piero della Francesco, Nicolas Poussin, and Jan Steen, as well as visual motifs from China and Japan. In addition, Day acknowledged the importance to him of his contemporaries, including Henri Matisse, Willem deKooning, Alberto Giacometti, and Balthasar Klossowski de Rola (known as Balthus). Day was well connected with the Philadelphia art world of his time and some of his works are based on photographs taken of himself and his artist friends. He also incorporated imagery from contemporaneous advertisements, editorial fashion spreads, and figures that were reproduced in printedmedia such as Vogue and Life.
Abstractions in Larry Day At 100 include Aspen Variations, c. 1960, inspired by Day's drives while teaching at the Aspen School of Contemporary Art in Colorado from 1960 to 1964. Figurative works include several By the Pool drawings, c. 1968, populated by Day's friends Armand and Anita Mednick, and The Tua Marrit Wemen and the Wedo: Homage to William Dunbar, 1978, a painting of fashion models, titled to pay homage to the late 15th - early 16th century Scottish poet. Day's landscape and architectural subjects include Old Tyler, 1961, a barren winter landscape referencing Tyler School of Art's Elkins Park location prior to its move to Temple University's urban campus; and Construction Site, from the early 1990s, painted during the decade Day lived in nearby Maryland. Several pieces featuring compositions of objects that Day kept in his studio for visual stimulation (Blue Bottle, and Apple, both c. 1965) suggest a Giorgio Morandi-like sensibility of contemplation and quietude.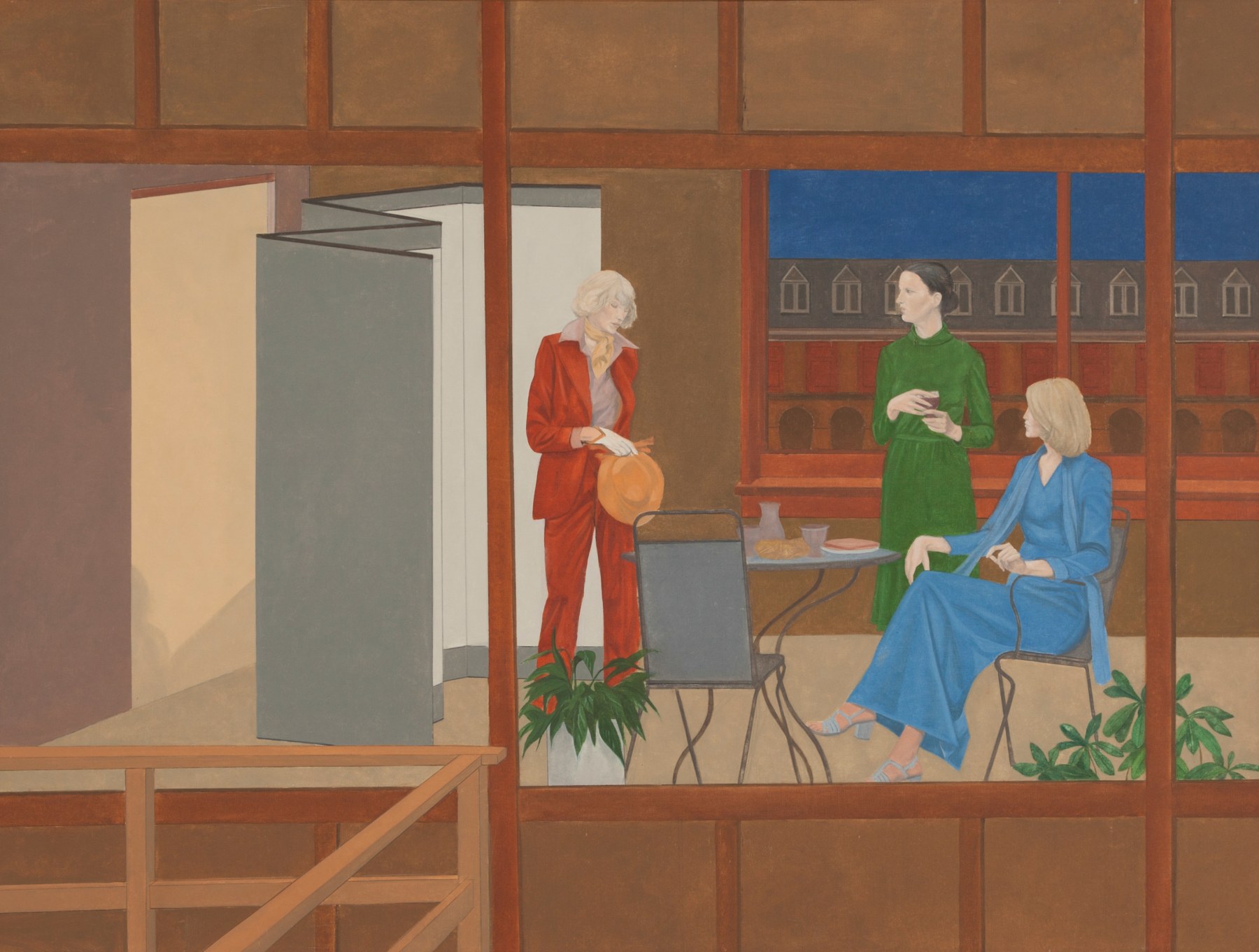 Together these diverse paintings and drawings affirm Day's understanding that the extraordinary was to be discovered in the ordinary. He believed that slowing down to contemplate a work of art in its full complexity would be a calming influence in our contemporary lives, dominated as they are by noise and rush. For Day, art comfortably traversed borders of time, place, and emotional content, to achieve the essential connections that artifacts can represent, between and across cultures.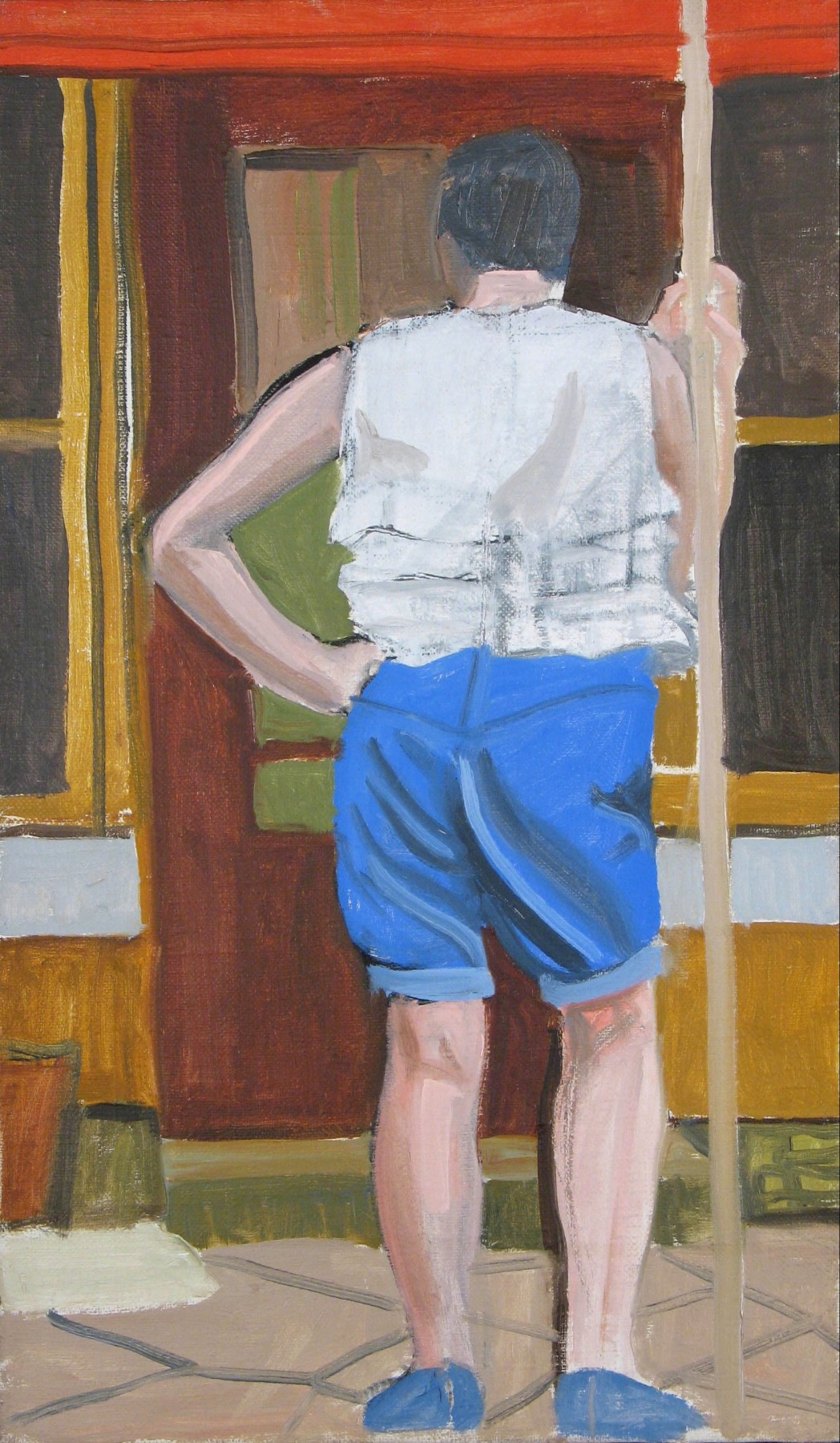 Larry Day was born Lorenzo del Giorno in Philadelphia in 1921. Day was the son of a Scottish mother and an Italian father, and he lived much of his life in Cheltenham Township.
After serving in the army during World War II, Day entered Temple University's Tyler School of Art under the GI Bill. He graduated in 1950 with a Bachelor of Fine Arts and Bachelor of Science for which received a gold medal for his scholarship. Day had a keen interest in both writing and painting, but upon realizing he couldn't devote sufficient time to both, his focus shifted primarily to painting. This decision was significantly influenced by the Matisse retrospective exhibition held at the Philadelphia Museum of Art in 1948.
After graduating from Tyler, Day embarked on a number of projects which included starting a picture-framing business with Robert Kulicke, as well as starting a greeting-card business with some friends. He also taught weaving, ceramics, and other art classes at a local Philadelphia high school. He traveled to Paris in 1952, where he spent much of his time painting, drawing and visiting museums. In Europe, he enjoyed solitude as well as time spent with other American painters and writers.
Once he returned to Philadelphia, Day became a distinguished figure in the painting department of the Philadelphia Museum School of Industrial Art (now University of the Arts), where he was a faculty member for 35 years. He was also a critic at the University of Pennsylvania's graduate school and at the Pennsylvania Academy of the Fine Arts. He was cherished by his students and peers for his unwavering dedication to both his studio work as well as intensive art education.
Day's work was influenced by various art forms including music (e.g. Bix Biederbecke, Haydn, and Mahler) as well as literature (e.g. Auden, Mann, and Stevens) and visual art (e.g. Piero della Francesca, Matisse, and Poussin). Throughout the 1950s, Day explored abstraction. By the 1960s, he delved into the possibilities of representation, which was subversive to mainstream ideas in American art at that time. His exploration of representational art's possibilities illuminated his imagination for the rest of his life.
The work of Larry Day is included in the collections of many museums, including the British Museum, the Art Institute of Chicago, the Eleanor D. Wilson Museum at Hollins University, the Metropolitan Museum of Art, the National Gallery of Art, the Rhode Island School of Design Museum, the Pennsylvania Academy of the Fine Arts, the Philadelphia Museum of Art and Woodmere Art Museum.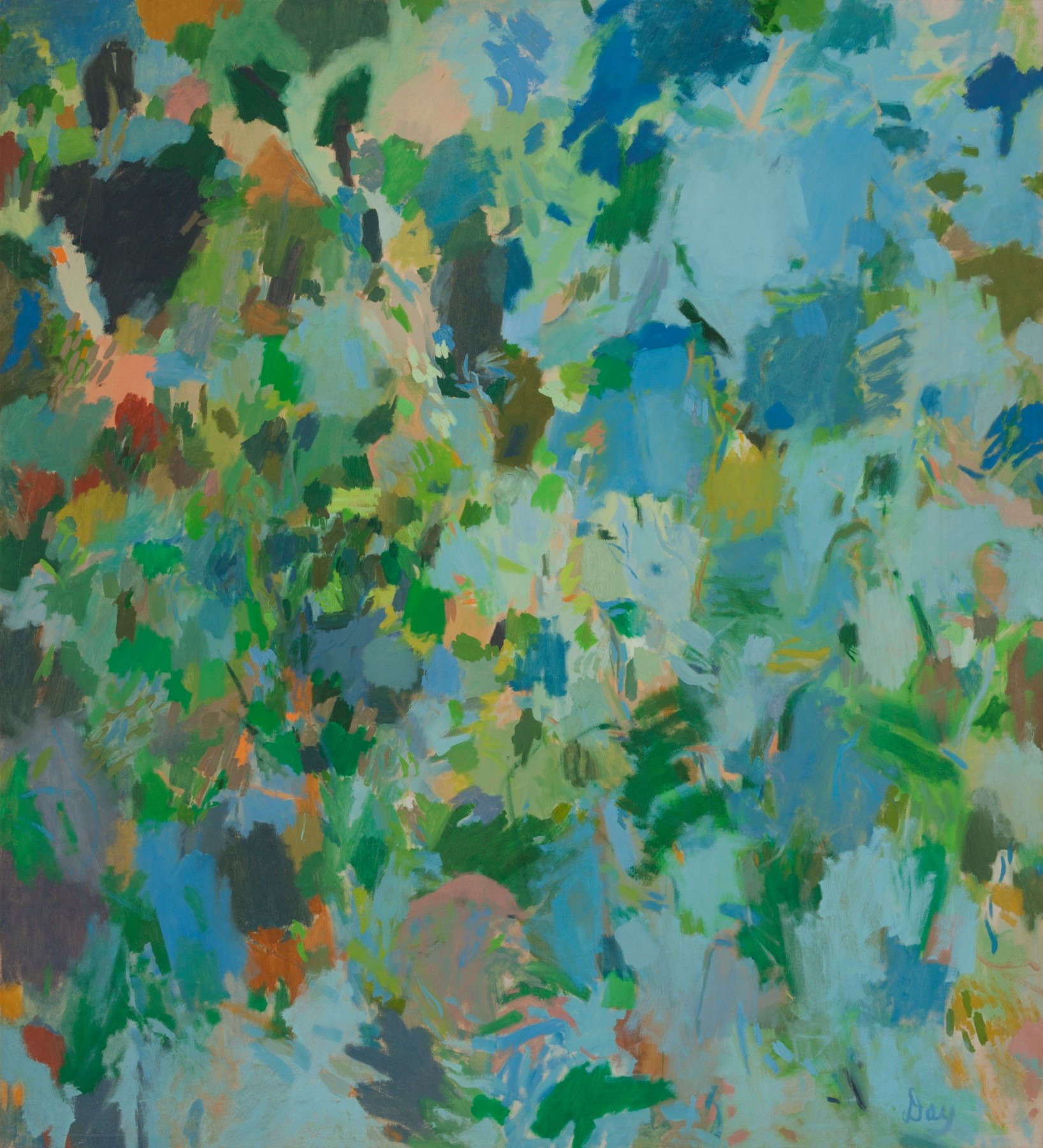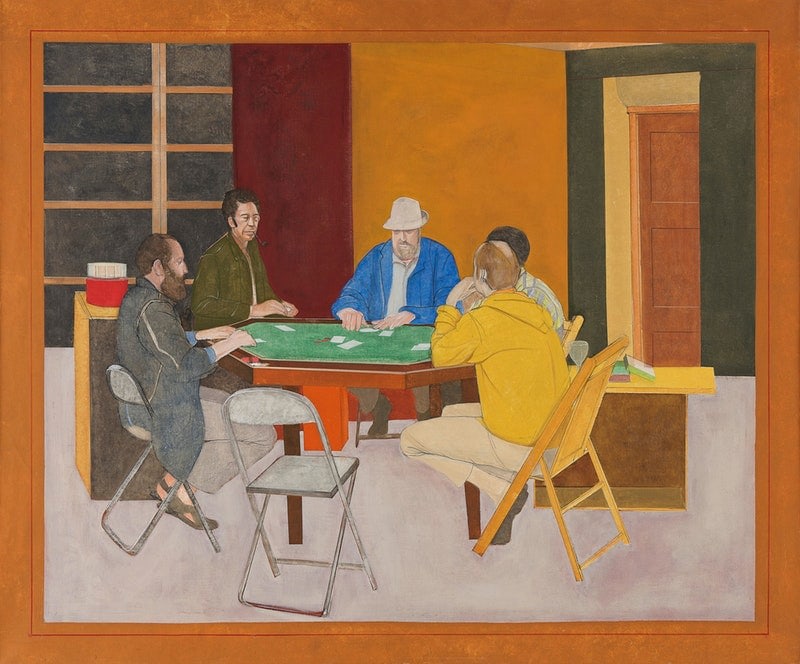 The Brooklyn Rail, ArtSeen
by Joe Fyfe
In the summer of 1989, I came across a black-and-white reproduction of a painting by Larry Day in a recent issue of Artforum. Entitled "The Red Building" it depicted a section of one of Philadelphia's blandly vintage neighborhoods. The reviewer, Eileen Neff, described the eight paintings included in Day's solo exhibition as making up a "variety of architectural exteriors," having "uniformly thin paint" and a "stage-like presence." I didn't know the picture in the photograph. I did know the artist and his previous work.
I hadn't thought of Larry Day or his work very much in the previous fifteen years. This innocuous streetscape in the reproduction was airily peaceful, classicized; Arcadian, even. The workaday Philadelphia I had known might look that way to someone who had served in Iwo Jima (I knew he did, getting through the pauses in battle reading The Magic Mountain). It was evidence of what Day wrote in one of his notebooks: "How we dreamed of the ordinary as ideal when we were in the army."
I met him in the mid-1970s at what was then called Philadelphia College of Art. Most of the painting classes were in the painting annex at 309 South Broad Street on the second floor of a building that also had Gamble and Huff recording studios upstairs. I remember sharing the elevator with some seriously duded-up performers. Extravagantly customized limousines were often double-parked out front. When I looked online for that address it was a construction site for condominiums.
Across Broad Street was the main building, a John Haviland Neo-Classical portico attached to a Victorian brick addition by Frank Furness with a courtyard where I had once walked in on Furness's former student, the architect Louis Kahn, giving a talk. Seeing the building again a few years ago, I was taken by the fineness of the Haviland structure. Delicately positioned windows set within the wide walls. The fat columns incongruous but somehow correct...