"From the beginning, I've wanted to make something beautiful out of my experiences, something to share with other people. For many years this meant painting landscapes and depicting the nuances of light and color. But now, without realism, they're free to become something new."
- Kurt Moyer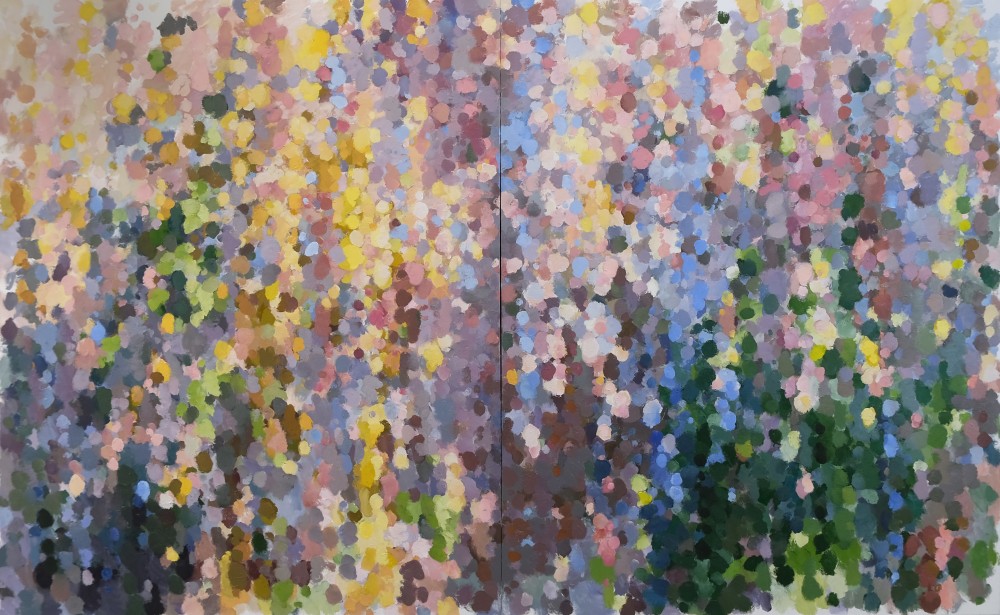 Gross McCleaf is delighted to present Impressions, the newest body of work by artist Kurt Moyer. Moyer's paintings range in size from twelve to one hundred and eighty inches, showcasing an enchanting array of vertical patterns and spotted colors that gracefully dance and play across canvases. Without illustrative depictions, Moyer manifests visions of Arcadia's rapturous glowing light, blanketing a viewer's field with dreamy abstractions.
Moyer's paintings blink into view, as if one were waking from a summer afternoon nap. Each work possesses a distinct palette and composition, with some providing glimpses into an intimate, lush world, while mural-sized canvases open planes and pathways that one could step into.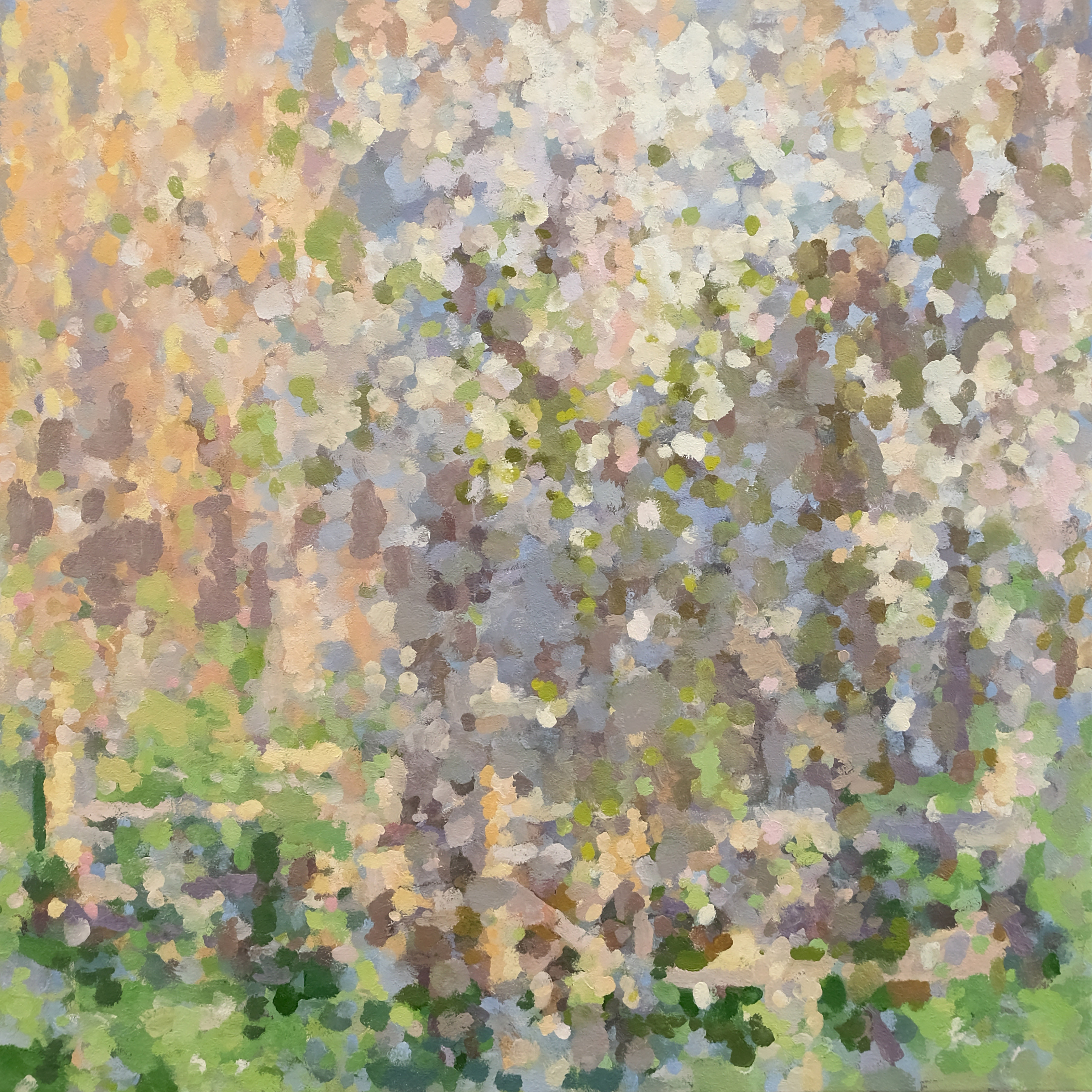 Although detailed imagery is not plainly discernable, allusions to the natural world emerge. Pinks and peaches radiate around the edges of Magnolia And Vegetable, while light blues recede into the distance. Pond features subtly diagonal purples and browns spilling over a plane with lighter yellow-orange and blues, suggesting reflections of light from above.
The most complex compositions are the three-canvas painting, Apple Tree in Bloom, and the six-canvas painting, The Meadow And The Trout Stream. Both works offer panoramic horizontal proportions, with arcs of color flourishing towards the top of the canvas before descending to their lower reaches. These shapes can be interpreted in many ways, resembling mounds of sprouting vegetation or bell curves symbolizing natural cycles.
As the viewer scans the surface of The Meadow And The Trout Stream, colors transition from bright yellow and blue on the left to pinks, then to green, brown, and orange, culminating in dark blue and deep greens on the right. There is a sense of time inherent in these transitions, guiding the viewer from morning on the left, along a wooded trail, to the end of the day when the last remnants of light twinkle out of existence, ushering the world into peaceful sleep.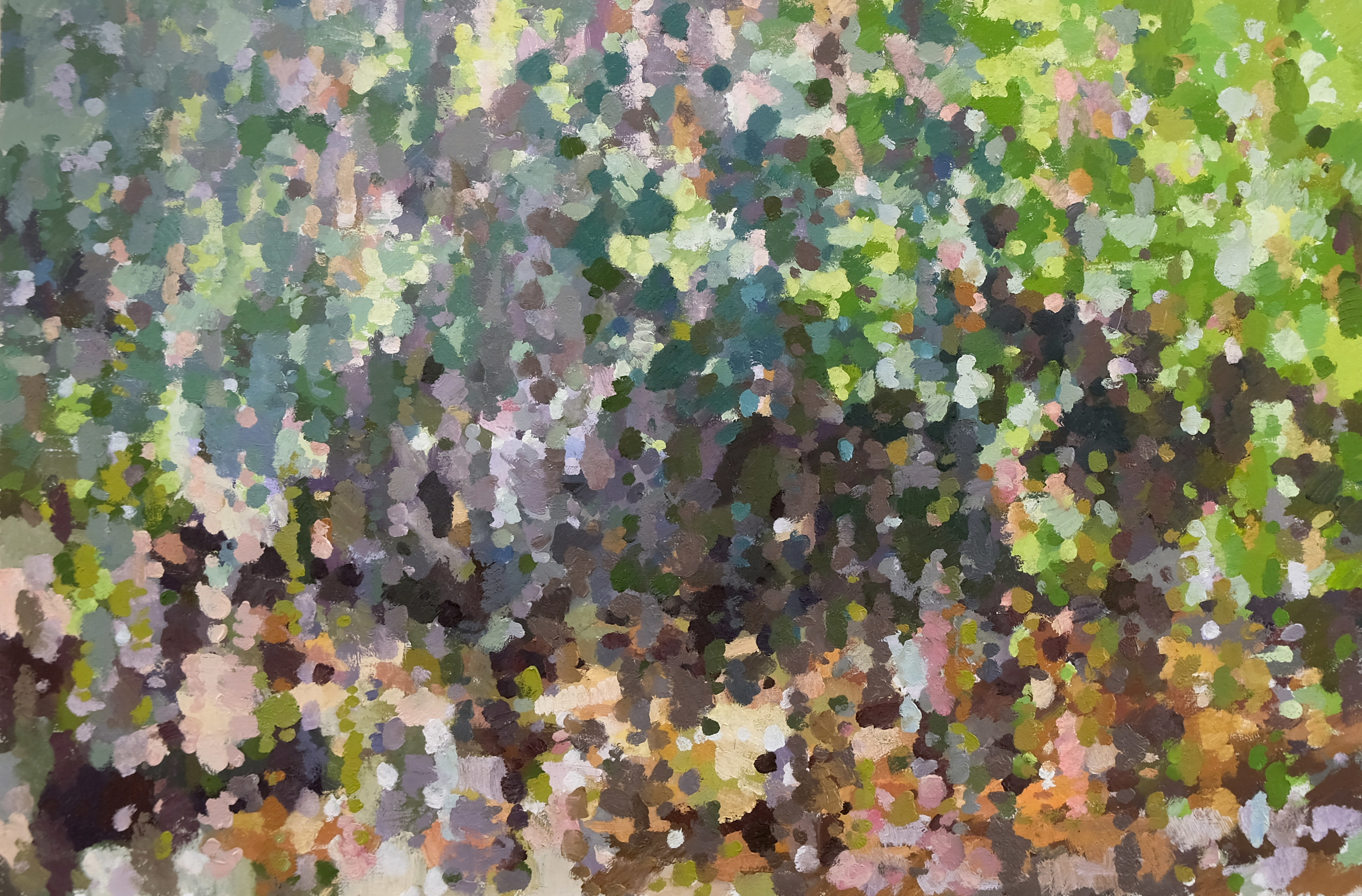 Originally from Southeastern Pennsylvania, Kurt Moyer is currently based near Rochester, New York. He is a graduate of Kutztown University and paints full-time in addition to attending artist residencies and programs on a regular basis throughout the United States, Italy and beyond. He has had five solo shows with Gross McCleaf Gallery and has been featured in solo and group exhibitions at other galleries and museums in the region. His work is in both public and private collections.
Image Right: Creek Shadows, 24" x 36", Oil On Canvas