Gross McCleaf Gallery is pleased to host the first major retrospective of Philadelphia-native Morris Blackman.
SAVE FOR FUTURE USE features two galleries filled with sculptures, paintings, drawings, and more from Blackman's prolific practice through three distinct periods of formal investigation.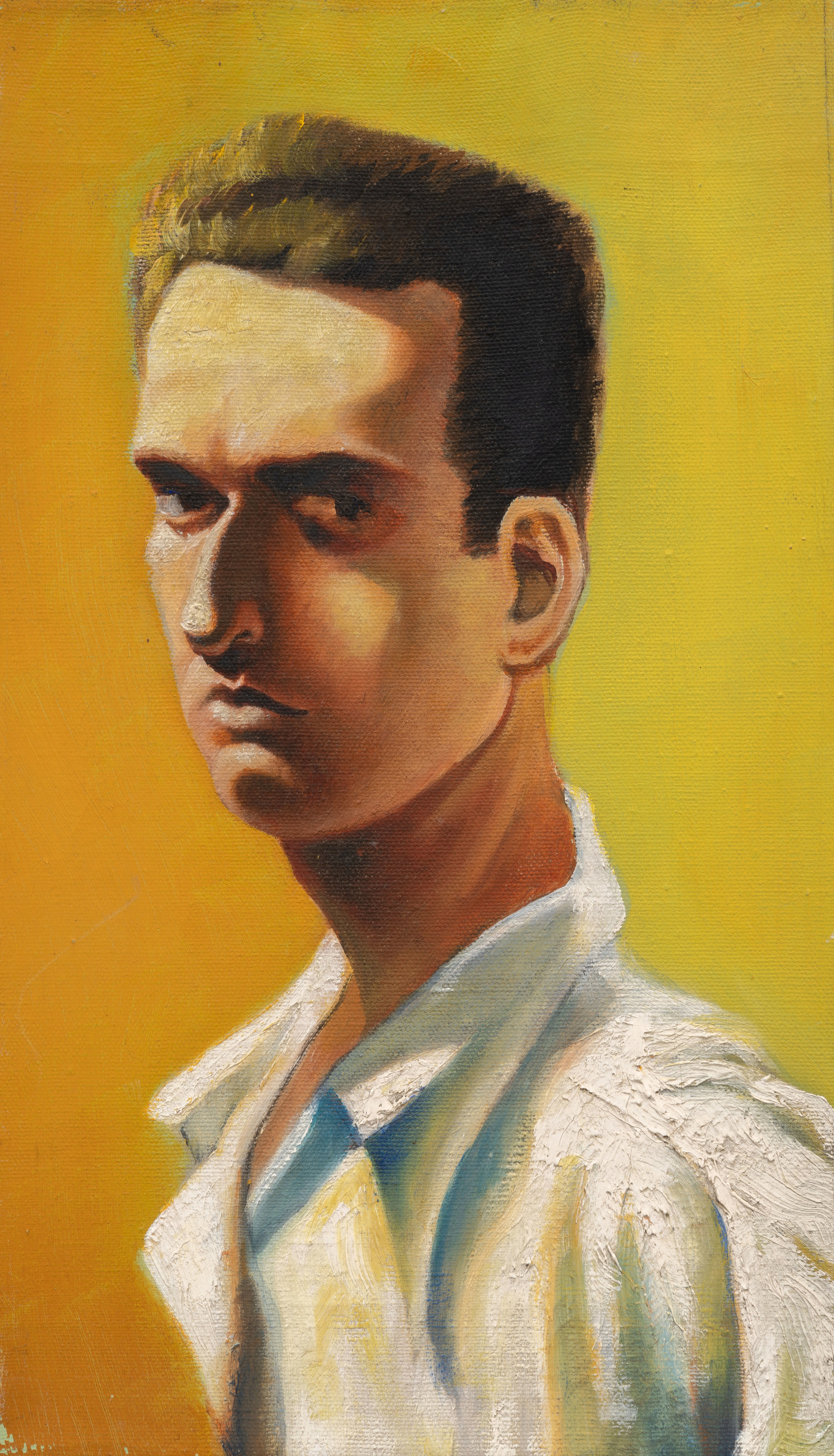 Drawings and a small, painted self-portrait are among the earliest pieces in the exhibit and attest to Blackman's draftsmanship and artistic training. His softly contoured graphite drawings depict various casts and statues that Blackman studied during his arts training. His self-portrait presents a young man in front of a field of bright yellow paint. His face in shadow, a critical gaze reveals the discerning and determined personality of Blackman as a young artist.
The largest work in the exhibition, measuring in at over 8 feet tall and 14 feet wide, comes from Blackman's transitional abstract expressionist period from the late 1950s and early 1960s. While thick paint and brushy paint application easily distinguish this series from Blackman's later works, the foundational forms are present in the spherical orbs that sit atop the dark structural shafts in the monumental triptych. The smaller abstract expressionist works contain linear gestures that seem to reappear in the later work as asemic writing. Primary colors also emerge as an interest during this period, a palette that carries through to the most recent paintings in the show.
Most of the pieces in the current show were created during the mature, later decades of Blackman's career from the 1960s to present day; a time when the artist had largely isolated himself from the rest of the Philadelphia art scene and the gallery world. Brightly colored knobs, joysticks, and buttons protrude from intricate sculptural designs while asemic writing, color wheels, and gridded charts communicate encrypted instructions across painted surfaces. The works feel somewhat utilitarian, as though they exist as controls for a machine, or perhaps, they are board games or mysterious pictographs with riddles to be solved.
Often made from found objects such as Styrofoam and wooden pegs, Blackman has arranged and transformed the pieces into delightful and surprising works of art. The generational, optimistic fascination of the space age is present and alive, the inspiration for the work seeming to arise from a time when the machines of the future might save the world. While this period of Blackman's work feels hopeful and connected with science fiction, a drawing and a large satellite dish shaped target are all that remains of his magnum opus, a 12 feet tall and 38 feet wide painted relief sculpture.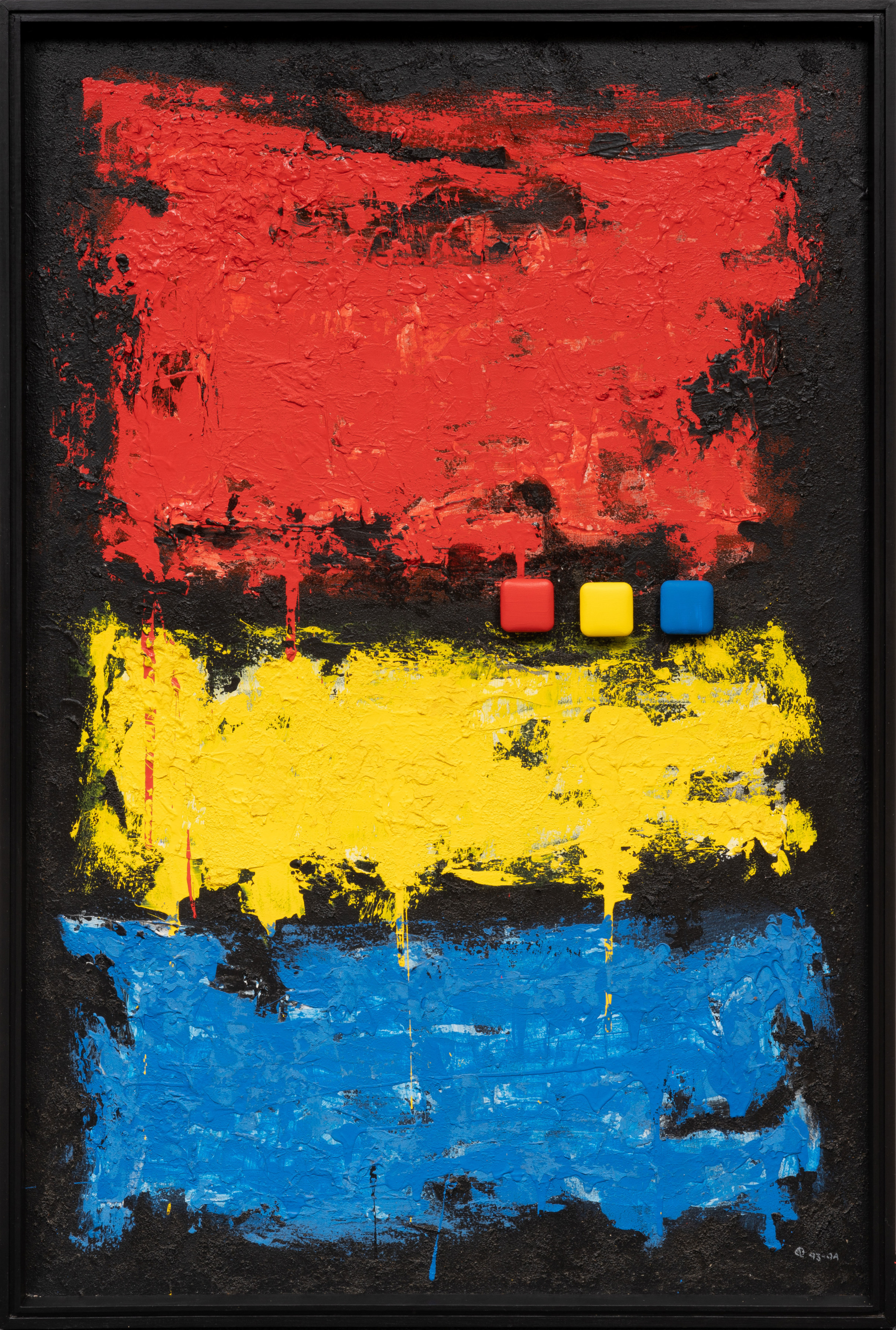 Morris Blackman was born in Philadelphia in 1930. Taking an interest in art early in life, Blackman began art lessons at the Graphic Sketch Club, now Fleisher Art Memorial, at the age of ten. On his return from being stationed in Europe with the US Army, Blackman enrolled in the Pennsylvania Academy of the Fine Arts. He received numerous prizes in mural art, figure drawing, and graphic art and two Cresson Traveling Scholarships, allowing him to travel through most of Europe.
He had a solo exhibit at PAFA's Peale Gallery in 1971 and participated in group exhibits at PAFA, the Marian Locks Gallery in Philadelphia, the Reese Palley Gallery in Atlantic City, and the Carlsson Gallery in New York. He taught at Fleisher Art Memorial and was a visiting critic at the University of Pennsylvania's Graduate School of Fine Arts. His work has been purchased by numerous private collectors and the Pennsylvania Academy of the Fine Arts.
Image Left: Primary Composition 018, 47.75" x 32", Acrylic