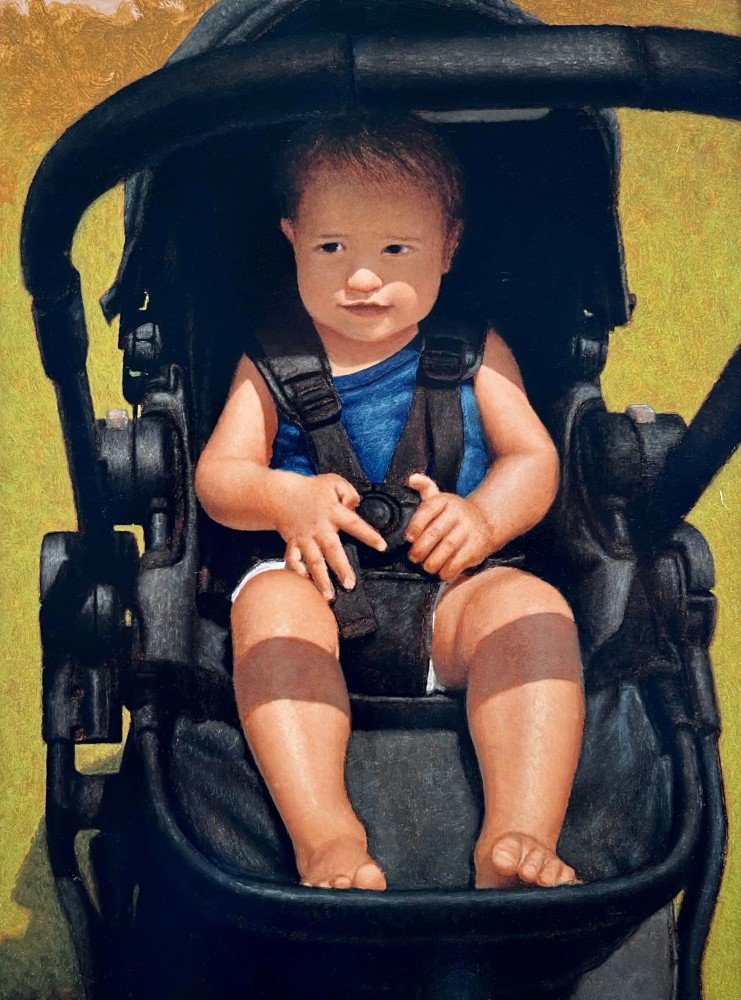 "I put a lot of care into the surface texture of the painting. It must set the tone or add subtext to a painting on a visceral level. It's a main part of seeing the painting.

- Ted Walsh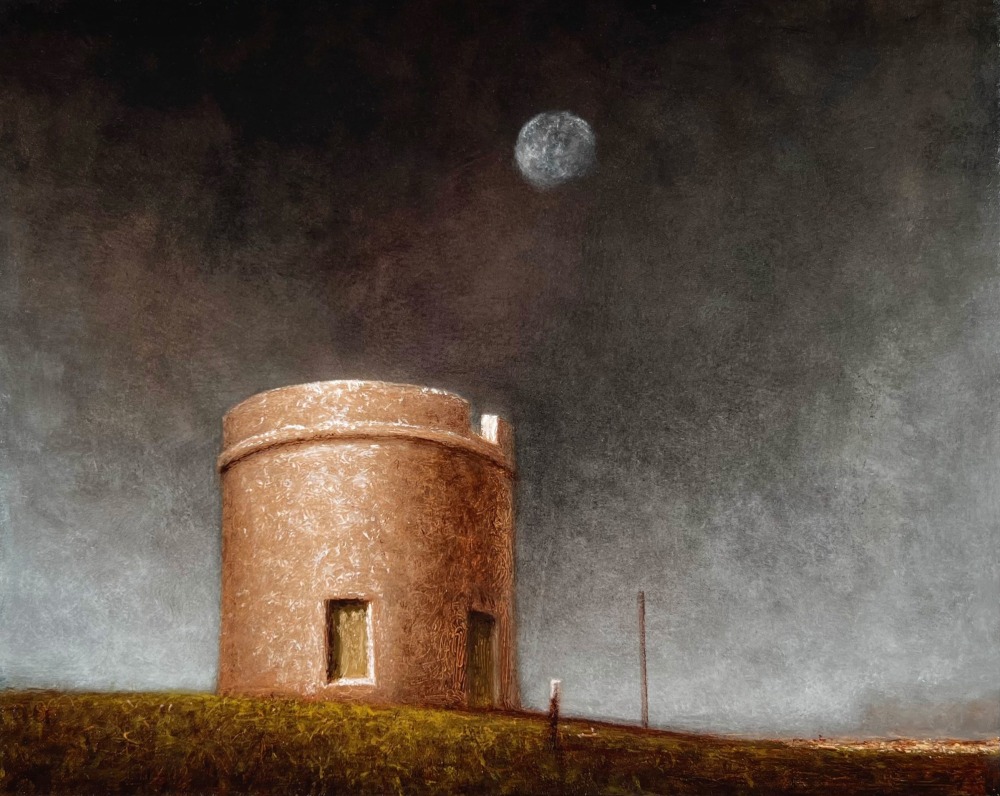 A devoted realist, Ted Walsh paints familiar rural scenes and curious portraits of unnamed characters in his solo exhibition, Out Here On Our Own. His quiet works hum with an uncanny undercurrent, inviting the viewer to complete a mysterious story only partially revealed within the picture.
Similar to the setting for a film, the structures within Out Here On Our Own create a mood and have a personality of their own. Farm houses stand on lonely, barren landscapes and birds swoop from above, perhaps searching for mice or carrion in the crunchy fields of dead grass. Although there is no indication of disrepair, the buildings feel empty. The structure in The Red Barn lacks any doors or windows, while other façades have no roads or driveways leading to them. Walsh's figurative paintings also have a cinematic quality to them as the subjects appear suspended in a state of frozen contemplation; arrested in the midst of an ongoing activity. Some stare at unknown objects that lie just outside the scope of the painting, leaving few hints at the sitter's fixation.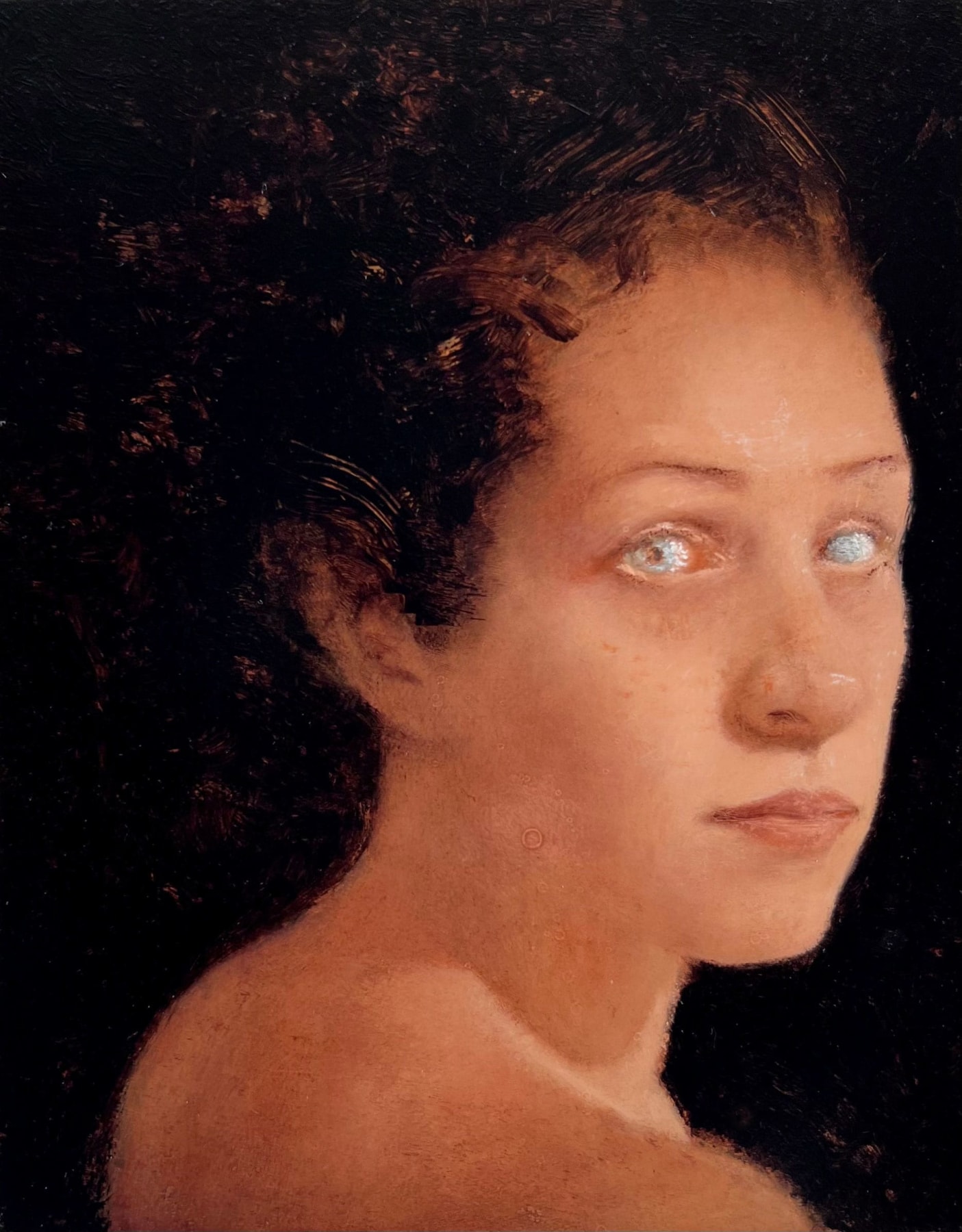 Walsh utilizes traditional painting methods with particular attention to the quality of the paint application. He layers both transparent and opaque pigments on a burnt sienna underpainting, providing a warm glow to his neutralized palette. The texture of the paint is surprisingly rich and varied, while the expressive brushwork adds another dimension to the narrative. Thinly brushed areas expose sepia tones beneath, evoking a kinship to works of the old masters, and creating a sense of timelessness in each image.
Ted Walsh exhibits paintings throughout the United States, and his work is in both public and private collections around the world. He graduated from the Pennsylvania Academy of the Fine Arts in Philadelphia with a MFA and earned his BA from Drew University in Madison, NJ. Walsh was awarded two Elizabeth Greenshields Foundation Grants as well as First Prize in Painting at Art of The State at The State Museum of Pennsylvania. He has twice been the resident artist at the Gettysburg National Military Park in Gettysburg, PA, once at Rocky Neck Artist Colony and the First State National Historical Park in the Brandywine Valley. Walsh has been a professor, visiting artist speaker, critic and workshop artist at various colleges and art centers throughout the northeastern United States. He lives and works in New Jersey.